Mr. Simon Presley



Dear Mr. Presley,
Thanks for taking a minute out of your day to let us know of your disappointment with our products. Over the years we've built what we believe is an outstanding reputation for good food. While it's rare, sometimes a problem can happen.
We work much like you do in your own kitchen, but on a much larger scale of course. Like you, we begin by selecting only the best ingredients and then carefully blend them together in just the right amounts. We even have a "recipe" that we follow to make sure every product will taste the same each and every time you buy it. Because of the speed of the automated equipment, it's difficult to visually inspect each container as it's being filled. But, samples are regularly tested and evaluated before shipment in an effort to prevent an unsatisfactory product from reaching a consumer.
Because of the automated product lines we know that oversights can sometimes occur. We've put several food safety programs in place to prevent these issues from happening. We've also positioned trained personnel at various points along the production lines. One of their duties is to watch for problems with the machinery. Our quality team members make regular rounds throughout the production area during the day to ensure that production equipment is working properly.
I'm glad you took a minute to get in touch with us. I've shared your experience with the folks that make this product. They'll review things on their end to try and prevent this from happening again. I'm more than happy to send you reimbursement for your purchase and I'm sure the next time you buy our products you'll be extremely happy with it! Remember, food brings us together and together we can make something good!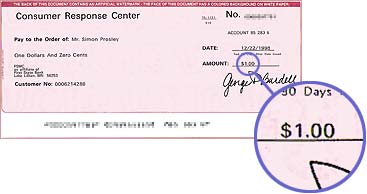 Sincerely,



Kim McMiller
Consumer Resource Manager
6214280/7311279
Enclosure
CONSUMER CHECK