1525 Industrial Road, Emporia, KS 66801
(316) 342-6811
June 23, 1997

Simon Presley


Dear Mr. Presley:
Thank you for contacting us concerning our Hostess Ding Dongs-12 packaging.
This product packaging was changed as a result of extensive market research. Before any change is contemplated, it is first tested by consumers and in-house panels and evaluated.
Although we believe it to be a very good package, we are continually striving for improvement and we thank you for sharing your opinions with us. Your comments will be passed along to our Marketing Department so that they may also be aware of your views.
In the event that you would like to try this product again, or any of our other fine products, please use the enclosed replacement coupons with our compliments.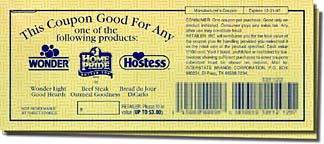 Sincerely,



Cynthia H. Noble
Quality Control Manager
INTERSTATE BRANDS CORPORATION

enclosures