August 6, 1997
Mr. Simon Presley



Dear Mr. Presley:
Because we appreciate your taking the time to let us know how pleased you are with our product, COMBAT SUPERBAIT ant control system, I am enclosing a complimentary coupon.
Knowing that you like our product is important, and we value the generous comments you have shared with us. Because the marketing specialists working on the development of this product also will enjoy hearing your opinion, I am forwarding your comments to them.
Again, thank you for letting us know that our efforts have been successful.
Sincerely,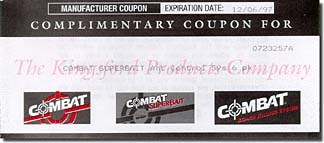 Product Specialist
lkw/rmg
Enclosure
0723257A